Canadians among global leaders in internet usage and smartphone ownership, Pew Research Center study shows
Back to All news:
Government data also reveals declining prices as usage of the internet and smartphones has increased
OTTAWA, ON – January 19 2023 – Last year, 95% of adult Canadians reported using the internet, whether on a computer or smartphone, according to a new study published in December 2022 by Pew Research Center. Canadian internet and smartphone users are also consuming more data than ever before while prices for such services have declined despite high overall inflation, according to government data.
The Pew findings rank Canada's internet use ahead of countries like the United States, UK, France, Germany, Italy, and Japan and is an increase of 27 percentage points from the 68% of adult Canadians who reported using the internet in Pew Research Center's 2002 survey.
The study also shows that smartphone ownership in Canada is similar to levels seen in other surveyed countries, with 98% of surveyed Canadians between the ages of 18-29 and 95% of those aged 30-49 owning a smartphone. As with other surveyed countries, the rate of smartphone ownership among Canadians aged 50 or more is lower than in younger age groups, with 72% of those in the 50-plus age group reporting smartphone ownership. This difference in smartphone ownership between age groups is an indication that there are factors other than cost that influence smartphone adoption, such as degree of digital literacy or lack of interest.
Not only are more Canadians using the internet and owning smartphones, recent data from the Canadian Radio-television and Telecommunications Commission (CRTC) and Statistics Canada (StatCan) show that individual subscriber's consumption of internet and mobile data, and the speeds experienced using such services, have increased dramatically, while prices for internet and mobile wireless services have declined.
With respect to internet services, while StatCan's All-Items Consumer Price Index has increased by 21% from December 2015 to December 2022, its Internet Access Services Price Index has decreased by 1%.1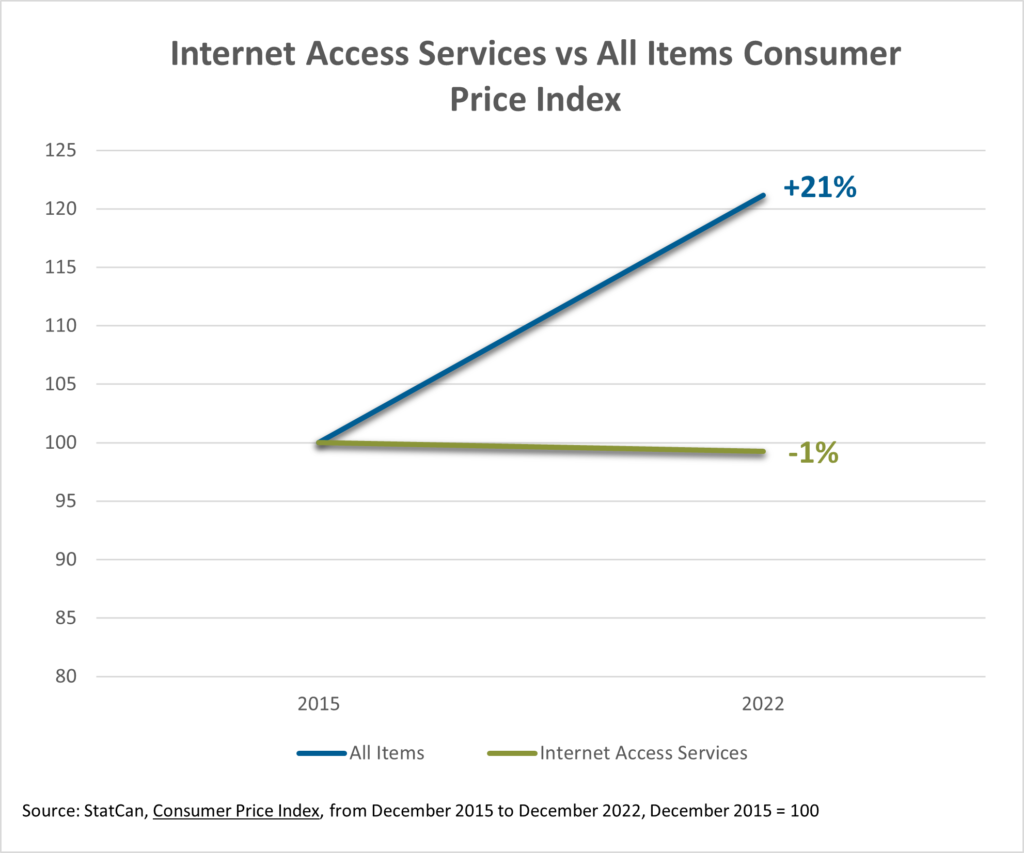 At the same time, according to the CRTC, the average Canadian residential internet subscriber downloaded almost 324% more data in 2022 than in 2015, with the average volume of data downloaded per month increasing from 93.1 GB per month in 2015 to 394.4 GB of data in Q3 2022.
In addition to consuming more data, Canadians are benefiting from faster internet services, with the average download speed subscribed to by Canadians increasing nearly tenfold from 28.5 Mbps in 2015 to 258.8 Mbps in 2021. The average upload speed has risen from 5.4 Mbps to 106.4 Mbps over the same period.
Mobile wireless subscribers are also getting more value for their dollar. StatCan's Cellular Services Price Index has declined by 32% from December 2018 to December 2022, while its All-Items Consumer Price Index has increased by 15% in the same period.2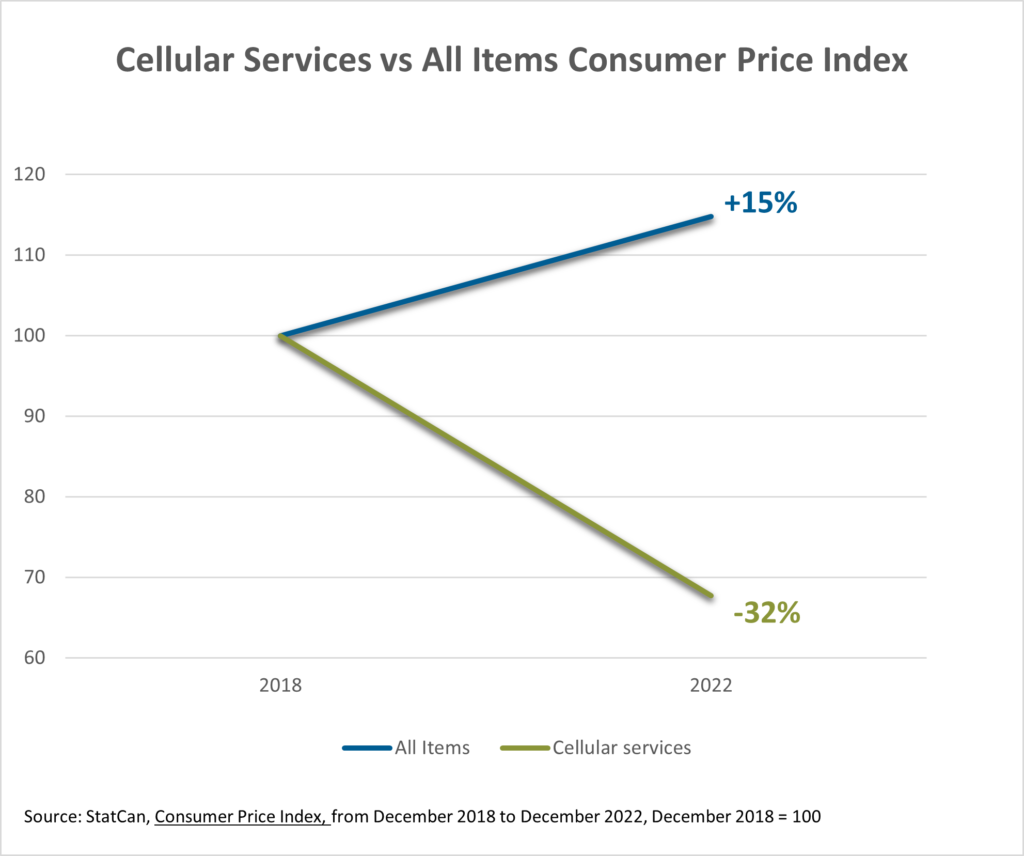 Like residential internet subscribers, Canadian mobile phone subscribers continue to increase their mobile data usage. CRTC reports that mobile phone users consumed, on average, 6.07 GB of data traffic per month in Q3 2022. That's almost three times the amount of data consumed 4 years ago.
Mobile wireless network performance also increased significantly over this time, with the average download speed experienced by Canadian mobile users almost tripling from 46.31 Mbps to 125.34 Mbps from 2018 to 2022.
"What these reports show is that Canada is among the world leaders in the adoption and use of the internet and smartphones," said Canadian Wireless Telecommunications Association (CWTA) President and CEO Robert Ghiz. "And while the consumption and performance of connectivity services continues to grow, prices are trending downward, while most everything else that is critical to Canadians is getting more expensive. These positive outcomes, together with the billions being invested each year by network operators to expand and enhance Canada's digital infrastructure, are strong evidence of the benefits of facilities-based competition and the need for a stable regulatory environment that will allow these positive trends to continue."
You can read Pew Research Center's study here.
About CWTA
CWTA is the authority on wireless issues, developments and trends in Canada. It represents companies that provide services and products across the wireless sector. CWTA also administers initiatives on behalf of its members, including corporate social responsibility programs and the national common short codes program.
Media Inquiries:
CWTA
[email protected]
1 Earlier versions of the Internet Access Service Price Index utilized a different methodology and, therefore, have not been used for comparison purposes.
2 Earlier versions of the Cellular Services Price Index utilized a different methodology and, therefore, have not been used for comparison purposes.